Paper Moon Media is a studio that believes in keeping things simple – by design! It's all about clear communication and expressive typography. We're creative, practical, organized, collaborative, give the utmost attention to detail, and we love what we do!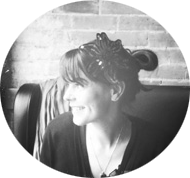 Tania Sear, Founder and Designer

Tania has a variety of experience collected through years of travel, sailing and opportunities that allowed her to use her love of simple layouts and all things design (interior, exterior, paper & web). A Bachelor of Honours in English and French Literature at The University of Western Ontario in London, Canada, gave her a keen understanding of the values of clear communication. With her love of reading satisfied, she opened the door to her dream of creative design and went on to study print design at Shillington College in Sydney, Australia and followed up with a web multimedia program at Toronto Image Works, Toronto, Canada. Now pursuing her love of design full-time with Paper Moon Media she finds no job too small!
She packed up her potential and all she had learned, grabbed a cute pair of shoes and headed out to change a few things.